Hello my dears, welcome back to the Crafts Mommy blog! As you all know we are passionate about different formats of quilts, but also those that are more traditional. So today we bring to you a format that unites both the new and the traditional: SCRAPPY MAPLE LEAF QUILTWe love how this design plays with your eyes and how it can be made in any number of color palettes and maintain an autumn feel. This striking quilt is by Cindy Carter.And how beautiful is this design, isn't it? Its creator brings striking strokes, which really play with our eyes, and bring us incredible sensations. For this pattern we used leaf-shaped scraps, as it is perfect for decorating your home in the fall.
When you have a cabin, or a lake house, and you had your childhood in these places, you must have good memories, right? Well, this pattern is especially for you who love that kind of decoration.Our blog brings you this kind of sewing, because it brings us joy and a lot of desire to learn more and more.For this pattern we will put here the beginning of the tutorial and you can look at it complete right after.
Getting Started:
Quilt – 71″ by 82.5″ (Twin)
Fabric Requirements1100 Scrappy, colored 2″ squares (unfinished)
60 Scrappy, colored 2.5″ squares (unfinished)
300 Scrappy and background fabric 2″ HSTs (unfinished)
If you don't have scrappy squares and scrappy fabric
Background fabric: 3 ¼ yards (includes fabric for the HSTs)
Inner border and leaf stems: ¾ yard
Binding: ½ yard
Create the inside borders:
Cut (8) 2" by WOF (width of fabric) strips from your inside border fabric.
Pieces the strips to make
(2) 2" by 63.5" strips
(2) 2" by 56" strips
Cut the rest of your (8)strips into 2" squares to be used in your quilt.
Reserve the remainder of this fabric to make your leaf stems.
Block A: You will be making (15) 10.5" blocks
(180) 2" scrappy squares
(150) 2" HSTs (scrappy and background fabric)
(60) 8" by 2" background rectangles
(45) 2" background squares
(15) 4.5" background squares
(15) Stems cut from template (see last page of pattern)
Step #1: Make your stem units and complete Unit 1
Cut each of the 4.5" squares in half diagonally.
Sew the stem to each side of the diagonal cut.
Press to away from the stem.
Square up to 3.5" (Stems don't need to be identical, nature is not perfect)
Sew the stem unit to the rest of Unit 1
Step #2: Assemble units 2, 3, 4 and 6.
Step #3: Sew units 1, 2, 3, and 4 together nesting your seams.
Press.
Step #4: Complete the Block.
Sew Unit 5 to either side of the leaf.
Sew Unit 6 to the top and bottom.
Press.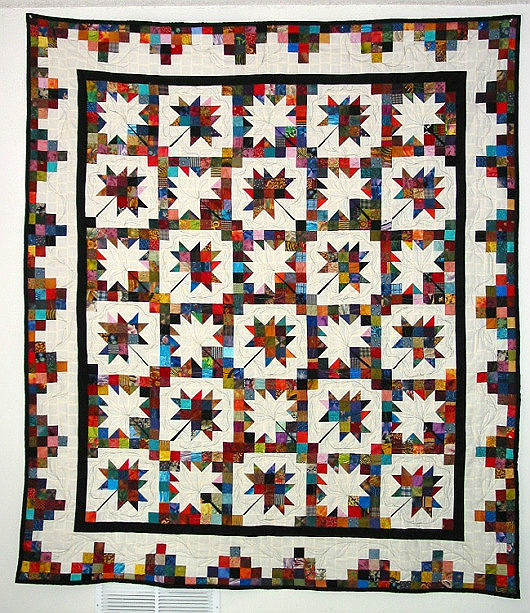 See you next time! Kisses, Mommy!