Hello my darlings, welcome back to Crafts Mommy. Today our blog brings you a quilt with beautiful colors, and with beautiful and easy to make patterns. As you know, our blog is known for always bringing news, and today could not be different.
This charming Hidden Star Quilt by Annie McHugs is actually quite simple to make, but produces an attractive quilt. She developed the pattern herself and creatively chose her fabrics to add to the visual complexity.
The star shaped quilts are really beautiful and bring a lot of charm to your home, or any room you want to put them in. Every day we have something new here, and this quilt is one of our most beautiful new items.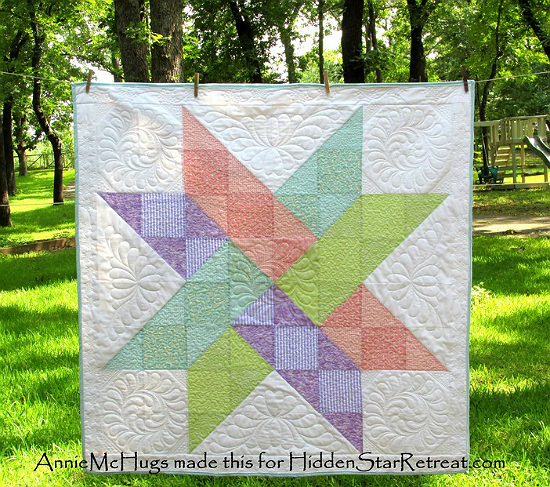 You can stick with your color scheme or vary it to suit your tastes. This would make a statement on the wall, draped over a table, or can be used as a lap quilt. The finished size is 52″ x 52″. This quilt is very easy to use. It is nothing more than an 8 by 8 grid. Squares and HST (Half Square Triangles) make up the design.
The best part is that you can use an 8×8 format which makes it a little easier to make. You can also vary the colors, in the tutorial that we brought here, the creator uses more neutral colors, very well harmonized, and chosen for a lighter environment. But nothing prevents you from using more vibrant and different colors for your work.
It is very gratifying to bring a pattern like this to you, here below we have the beginning of the tutorial, but you can access the full tutorial soon after ok.
Let's get started!
Finished Size:  52 in. by 52 in.
Fabric Requirements:
White background:  1 and 1/2 yards

Green;  1/2 yard

Teal:  1/2 yard

Purple:  1/2 yard

Pink:  1/2 yard
Cutting:
White
Cut 2 strips  6 5/8 in. wide.   For the blocks:  cut 8 squares  6 5/8 inches square.   Now cut these diagonally to create 16 HST

Cut 4 strips 6.25 inches wide.  For the blocks:  cut 22 blocks 6.25 inches square

Border:  6 strips of white cut at 3 inches by WOF

Binding:  6 strips of white cut at 2.5 inches by WOF
See you next time! Kisses, Mommy!