Orbit Courthouse Steps and Star blocks Quilt
Hello my darlings, Mommy is back here. It really is gratifying to be able to write here for you and bring another beautiful pattern for us to enjoy. As you know the art of quilt making goes far beyond the patchwork and blocks placed side by side, the art of quilt making is love and care in every alignment. Today we have brought you an incríevel pattern, and one that we are sure you will love! The Courthouse Steps and Star blocks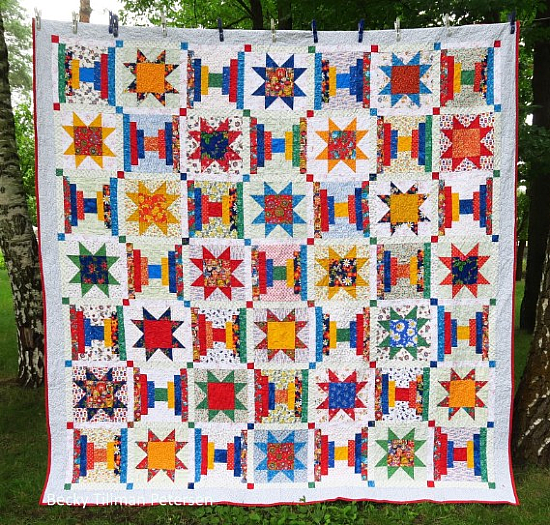 The alternating court staircase and Star blocks create a stunning overall design. While the color palette is great, the quilt will also be wonderful in a narrower palette.Also, this type of pattern can be done with more basic colors, according to the will and need of you who are making it.
For the making of this beautiful pattern we will leave below a path to follow, where you will find a PDF with the step by step, this pattern besides being beautiful leaves any environment with incredible aspect. I have faith that you will be a knockout in the making of this pattern. The author of the pattern left a hint that it should be made in a square pattern, which is ideal for children's and teenagers' beds, but nothing prevents you from using your imagination and making it in a format that suits you best.
We will leave the beginning of the step by step for you to have a look and the complete step by step will be available below.
STEP BY STEP
You need:
• 7-1/8 yards of low volume or lights for background
• 4-7/8 yards of brights
• ½-3/4 yards of fabric for the binding.
Note: This quilt is made up 2 blocks which measure 12 ½" x 12 ½" before being sewn into the quilt:
and
Cut:
For main blocks: – for each block you need these pieces: My quilt consisted of 25 courthouse steps block and 24
Star blocks.
For Courthouse steps block: (total for entire quilt shown in parenthesis)
From brights:
• 1 – 3½" square (25)
• 2 – 2"x6½" rectangles (50)
• 2 – 2"x9½" rectangles (50)
• 2 – 2"x12½" rectangles (50)
From low volume/lights:
• 2 – 2"x3½" rectangles (50)
• 2 – 2"x6½" rectangles (50)
• 2 – 2"x9½" rectangles (50
For Star block: (total for entire quilt shown in parenthesis)
From brights:
• 8- 3½"x 3½" squares for star points (192)
• 1 – 6 ½" square for center of star (24)
From low volume/lights:
• 4 – 3½"x3½" squares for star points (96)
• 4 – 3½"x6½" for background (96)
For sashing:
From low volume/light for entire quilt:
• 112 – 2"x 12½"
For cornerstones:
From brights for entire quilt:
• 64 -2"x 2" squares
Borders will be dealt with later
 Full step by step continues on the link
A kiss from Mommy, until next time