Spellbinding Table Runner Halloween Quilt
Hello my darlings, Mommy is back here. It really is gratifying to be able to write here for you and bring another beautiful pattern for us to enjoy. My dear readers of the blog today we come to talk about this month that is frightfully delicious, and a commemorative date that we especially love. Yes, Halloween!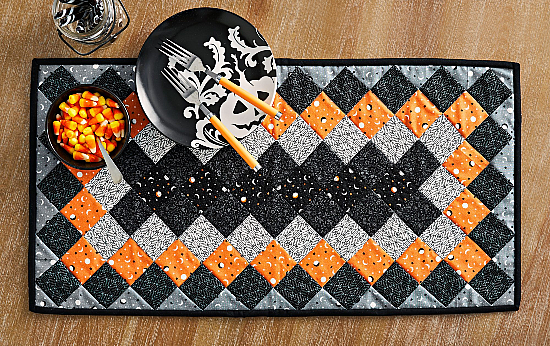 As we know the famous Halloween, a tradition of ours, is also a day to decorate our house with stronger colors, today we will work a lot with the color orange, because it is the official color of Halloween, don't you think? And to start our sequence of talks about this date we brought a beautiful and fun pattern, the Spellbinding Table Runner, yes a quilting applied on a tablecloth. Isn't it wonderful?
For this pattern our tip is that you use traditional Halloween colors. Don't limit yourself to just one color, vary and make several tablecloths in different colors and spread them around the house. Here we brought a beautiful example.
Well the author of this piece uses elements of the date and we want you to use your imagination, it will also be wonderful in colors to match your decor or those that you will enjoy throughout the year. However, it is so easy to make that you may want to make more than one to exchange throughout the year.
Let's go learn this cute and fun pattern? Then get to work. We will leave here the beginning of the step by step pattern for you to get familiarized and then we will leave a link for you to see the complete pattern. Good job!
STEP BY STEP
Materials
Yardages and cutting instructions are based on 42″ of usable fabric width.
10″ square black moon print (rows)

1—9×21″ piece (fat eighth) each black floral and white spiderweb print (rows)
1—18×21″ piece (fat quarter) each orange moon print, black spiderweb print, and gray moon print (rows)

1/3 yard solid black (binding)

5/8 yard backing fabric

22×36″ batting
Finished table runner: 14-1/8×28-1/4″
Cut Fabrics
Cut pieces in the following order.
From black moon print (fabric 1), cut:
From black floral (fabric 2), cut:
From white spiderweb print (fabric 3), cut:
From orange moon print (fabric 4), cut:
From black spiderweb print (fabric 5), cut:
From gray moon print (fabric 6), cut:
7—4-1/8″ squares, cutting each diagonally twice in an X for 28 setting triangles total (you'll have two leftover)

2—2-3/8″ squares, cutting each in half for 4 corner triangles total
3—2-1/2×42″ binding strips
A kiss from Mommy, until next time.