Bramble Cocktail Shawl Crochet
Hello my crochet lovers, today we are very happy to be here with you, and we have brought you a beautiful pattern: Bramble Cocktail Shawl; it is a beautiful piece that can help a lot when putting together your going out look. Very sophisticated and elegant, it is a showstopper, and it will give a much more beautiful highlight to any type of look that you want to compose, which can help you a lot. By knowing how to make different shawls, you can perform a miracle of multiplication in your closet, which can help you a lot with those clothes that you barely wear. A beautiful way to make amazing products that are sure to please your customers.
It is a perfect accessory to complete that elegant outfit on softer evenings, adding a feminine touch to your look and leaving you with a wonderful, charming touch. The pattern is wonderful Cocktail Shawl Bramble, a beautiful, delicate, and pretty piece for very special occasions, as it helps you put together many looks.
Let's make it together, let's take advantage of the art of crochet to make other pieces that accompany this shawl, such as a beautiful hat to keep perfectly warm. By making pieces that complete your look with this shawl, you can put together amazing looks. Here we have what you will wear and a step by step :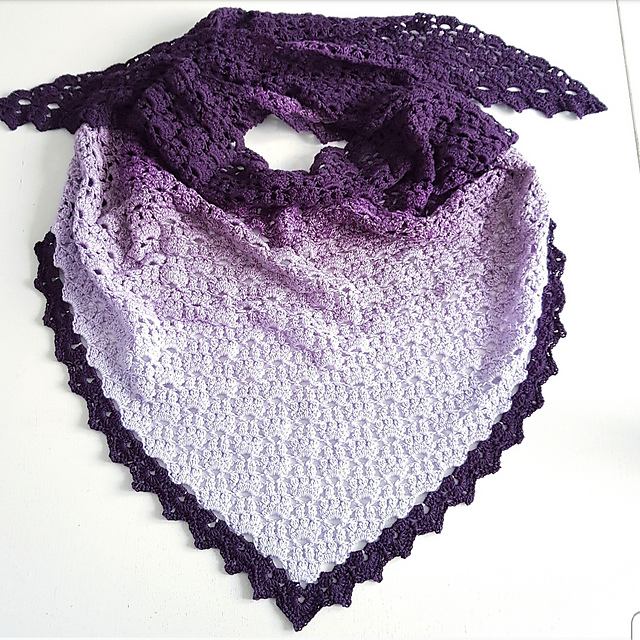 Bramble Cocktail Shawl
Pattern / Images / Tutorial By: Diwy Por Titti
Yarn consumption:
Original yarns: sheep's twirl, shoulder twirl or wool twirl, 1 ball.
Katia silk lace, 4 balls
Katia Stella, 2 balls
Black sheep baby, 10 skeins (25 grams)
Merino baby black sheep, 10 skeins (25 grams)
Crochet hook: 3.5 mm
Abbreviations:
Lm = air stitch
Fm = fixed stitch
St = post
Hst = half post
Dst = double post
Relfm = do dc around tr, instead of loop through.
3 pcs even = crochet 1 tr, but wait with last pull, crochet 3 more the same way, but
wait with the last pull, make a wrap and pull the thread through all loops. Thus
you have crocheted 3 stitches together for one stitch.
We have our crew's opinion on this amazing pattern

A shawl that will make your look complete and very charming. This Bramble Cocktail shawl is very beautiful and will change your look leaving you very beautiful and elegant. It is easy to make and has a beautiful stitch that gives an amazing touch to the piece, which is great and only makes the piece more charming.
So, do you want to make this wonderful Bramble Cocktail Shawl? Then follow the tutorial carefully and you can make this beautiful dress easily. One tip we give you is: Set aside all your material and all your tools to make this beautiful dress while following the tutorial, so you will be able to make this dress quickly is easy.
SEE TOO : Star of the Forest Crochet