Hello my friends, what a joy it is to be here with you once again. This is Mommy speaking. Crocheting, as well as any kind of craft, is a great idea to relax, pass the time, and even make a little extra money at the end of the month. Besides, how can you deny the love and care that only handmade things carry? No wonder they have been conquering more and more fans, whether producing or consuming these pieces. Did you know : The word crochet is derived from Old French crochet , a diminutive of croche, in turn, from the Germanic languages croc , both meaning "hook" It was used in 17th century French lace production, where the term "crochetage" designated a stitch used to join separate pieces of lace together.
The word "crochet" subsequently came to describe the specific type of fabric and the hook needle used to produce it. Crochet work usually begins after a sequence of stitches called a chain stitch which are counted, the number of stitches can be set numbers, even or odd numbers, or multiples of specific numbers to obtain the motif, pattern or finished piece. During making it is possible to make increases and decreases in order to shape the shape of the work.Circular pieces, such as round towels, baskets, hats, are started from the center evolving outward and then upward if you want to form a tube; whereas the initially tubular piece is worked on a sequence of chains joined at the end, forming a circle and then worked from bottom to top, thus forming the tube,in both types of piece, circular or tubular, the work is made only on the right side of the crochet fabric.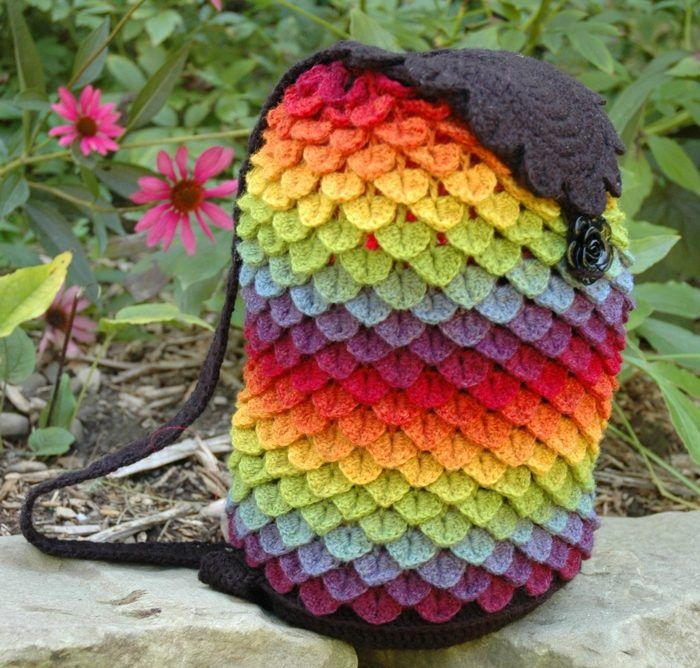 Let's talk now about our pattern that we brought to you today, the Rainbow Dragon Backpack. We will show you here an incredible step by step that you will love. I really like crocodile stitch, though I think it is too thick for most garments. However, this becomes an advantage when making a bag or backpack. In my stash, I happened to have self-striping Kauni (affiliate link) yarn featuring long color transitions, and it worked really well for this project. Matching self-striping yarn to a project is often a matter of guesswork, so I feel I got lucky with this one. The bottom, flap and straps were knitted using a solid black yarn to complement the colorful body of the bag. If you don't have a yarn with long color transitions, you can achieve the same effect by using several solid yarns.Use rainbow colored yarn to work up this one-of-a-kind crocheted bag.
The Rainbow Dragon Bag measures 12 inches high by 9 inches wide, so it's just the right size to carry a variety of items including notebooks, magazines, and laptops/tablets. This particular pattern is best for intermediate crocheters since it is crocheted in rounds from the bottom up and uses the crocodile stitch. This is a great crochet backpack to make not only for kids, but also high school and college students, as well.
Probably the most challenging part of this pattern is crocheting crocodile stitch in rounds. I prepared a video explaining how to do this with the help of my wonderful assistants, and hopefully you find it helpful. If you have experience with crocodile stitch, this should present no problem at all. If you can figure out the crocodile stitch, the rest is actually pretty straightforward. Rest assured that below we have an incredible step by step that you will be able to use and make this incredible pattern. A good project to you beloveds. A kiss from Mommy and until next time.
SEE TOO : Red Heart Patriotic Pride Throw