Angel Wings Pinafore Crochet
Hello my beloveds, what a joy to have you here again. Very happy to show you another beautiful pattern, today I come to talk about Angel Wings Pinafore, a beautiful pattern to make your little princess more enchanting than she already is, gathering an incredibly charming look. This beautiful crochet pattern is a perfect and excellent piece to invest in, mothers and grandmothers who love to make crafts for their little ones will love making this beautiful project for sure. With little material it is easy to make this beautiful piece and the color used here is just a suggestion.
Let's talk about it then? First choose a color that matches the accessories your child already has so you can vary the look of your little one, leaving her always well dressed and elegant, and you can even make different combinations. This kind of piece always gives a special and charming touch when dressing the little girl and pieces like this, made in crochet, are highly valued for being differentiated and unique. You can decorate it with crochet flowers if you wish, or use other types of appliqués, use your creativity and decorate as you wish this beautiful pattern. This stunning Angel Wings Pinafore will leave everyone amazed for sure!!!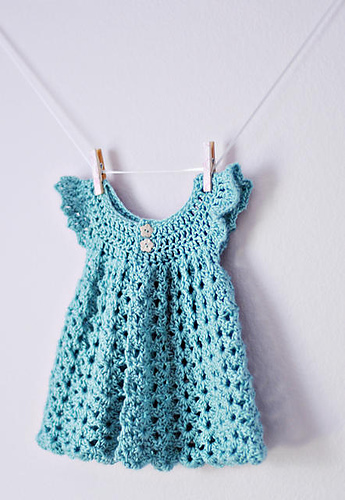 We will post here a start of a step by step for you:
Suggested yarn: Bernat Baby Sport Solids & Marls
Yarn weight: DK (11 wpi) ?
Gauge: 7 stitches and 4 rows = 5 cm in double crochet (US)
Hook size: 5.0 mm (H)
Yardage: 275 yards (251 m)
Sizes available: newborn – 3 months
Crochet terminology: US
Languages: English
7 sts =2 inches 2 rows of dc = 1 inch
1) ch 52. sc in second ch from hook an in each ch across. 51 sts
2) ch 3. turn. dc in each of next 2 sts. * 2dc in next st. dc in each of next 3 sts. repeat from * 11 times. dc in each remaining sts to the end. 63 sts
3) ch 3. turn. dc in each of the next 3 sts. * 2dc in the next st. dc in each of the next 4 sts repeat from * 11 times. dc in each remaining st. dc on top of ch 3. 75 sts
4) ch 3.turn. dc in each of the next 3 sts. * 2 dc in the next st.dc in each of the next 4 sts. repeat from * 13 times. dc in each of the remaining sts, dc on top of ch 3. 89 sts.
5) ch 3. turn. dc in the same st. * skip next st. shell (2dc ch 2 2dc) in next st. repeat from * to end 2dc on top of ch 3 43 shells
The complete step by step you will get in the path just below, the Pinafore Angel Wings, a beautiful pattern that will surely make your princess look incredibly cute and very charming, gathering looks with this piece is a sure hit. it has beautiful colors that can be changed as you wish, which is even better. Many will love this beautiful piece, you can be sure it will be a success among your customers, which is great, a kiss from Mommy until next time!