BERNAT C2C HAPPY SNOWFLAKE CROCHET BLANKET PATTERN: A Cozy Christmas Project
The holiday season is approaching, and there's no better way to infuse your home with warmth and festive cheer than with handmade decorations. If you're a crochet enthusiast looking for a creative project to spruce up your Christmas decor, we have just the thing for you – the BERNAT C2C Happy Snowflake Crochet Blanket Pattern. This enchanting pattern not only adds a touch of magic to your surroundings but also makes for a thoughtful and heartwarming gift.
Crafting Holiday Joy
The BERNAT C2C Happy Snowflake Crochet Blanket Pattern is a delightful project that captures the essence of winter. The intricate snowflake design combined with the cozy warmth of a handmade blanket creates a magical ambiance in your home. The Corner-to-Corner (C2C) technique adds a modern twist to this timeless holiday favorite, making it both visually stunning and functional.
Why Choose This Pattern?
Easy-to-Follow Instructions: Whether you're a seasoned crocheter or a beginner, this pattern provides clear, step-by-step instructions that guide you through the entire process.
Versatile Color Options: You can customize the colors to match your existing Christmas decor or opt for the classic red, green, and white combination for a festive touch.
Quick and Rewarding: The C2C technique works up quickly, ensuring your snowflake blanket is ready to adorn your home in time for Christmas.
Personalized Touch: Handmade gifts always carry a special charm. This blanket allows you to infuse your love and creativity into your holiday presents.
Decorating with Your Snowflake Blanket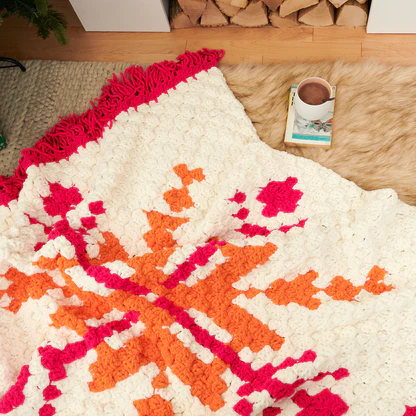 Once your BERNAT C2C Happy Snowflake Crochet Blanket is complete, it's time to incorporate it into your Christmas decorations. Here are some creative ideas:
Festive Throw: Drape the blanket over your couch or favorite chair to create a cozy holiday atmosphere. It's perfect for snuggling up with a cup of hot cocoa and a good book.
Table Runner: Lay the blanket across your dining table as a unique table runner. Pair it with candles, pinecones, and holiday-themed dinnerware for an elegant tablescape.
Tree Skirt: Use your snowflake blanket as an alternative to a traditional tree skirt. It adds a touch of homemade charm to your Christmas tree display.
Wall Art: Hang your completed blanket as decorative wall tapestry. It will become an eye-catching centerpiece for your living room, creating an instant winter wonderland.
Heartwarming Gift Ideas
If you've already completed your BERNAT C2C Happy Snowflake Crochet Blanket and have extra time on your hands, consider creating more as thoughtful gifts for your loved ones. Here are some ideas:
Personalized Keepsakes: Add initials or names to the corners of the blanket to make it extra special for each recipient.
Matching Sets: Create a set of matching snowflake-themed items like pillows or coasters to complement the blanket.
Gift Baskets: Pair the blanket with a basket of festive goodies like homemade cookies, hot cocoa mix, and scented candles for a complete holiday gift.
The Joy of Handmade
The true magic of handmade gifts and decor lies in the love and care that goes into creating them. When you crochet the BERNAT C2C Happy Snowflake Crochet Blanket, you're not just making a beautiful piece; you're crafting memories that will last a lifetime. Each stitch is a testament to your creativity and the warmth you bring to your home during the holiday season.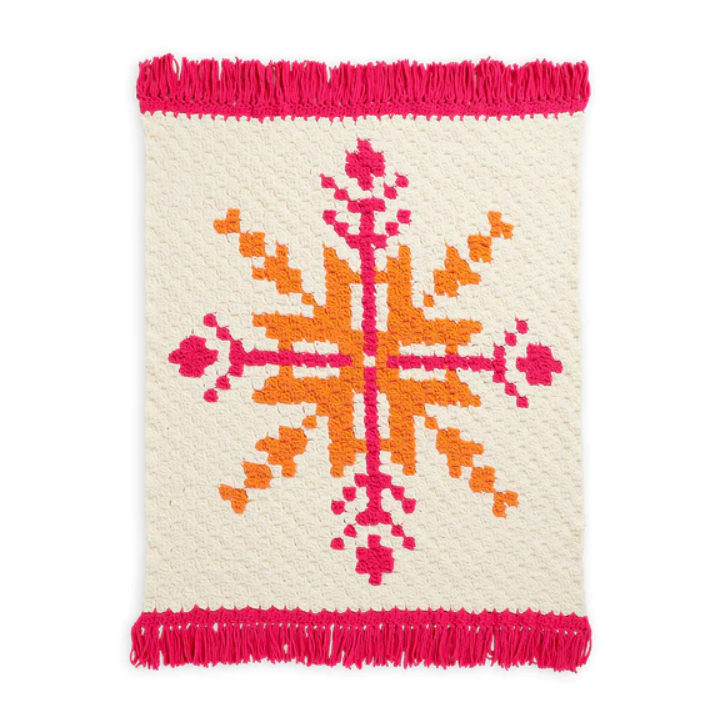 As you work on this project, take a moment to savor the process. Feel the soft yarn between your fingers, watch the snowflake pattern come to life, and imagine the smiles of your loved ones when they receive such a heartfelt gift. Crocheting can be a therapeutic and meditative experience, allowing you to slow down and enjoy the present moment.
By choosing the enchanting BERNAT C2C Happy Snowflake Crochet Blanket Pattern, you're not only adding a touch of winter magic to your own home but also spreading warmth and joy to those you love. Start crocheting now, and you'll have a charming handmade gift or decor piece ready just in time for this Christmas season.
Don't miss out on the opportunity to create holiday memories with this delightful crochet pattern. As you weave each stitch, you're weaving moments of love, joy, and creativity into your holiday celebrations.
For more holiday crafting inspiration and patterns, be sure to explore "Crafts of the Mommy." Happy crocheting, and may your holiday season be filled with love, laughter, and handmade warmth!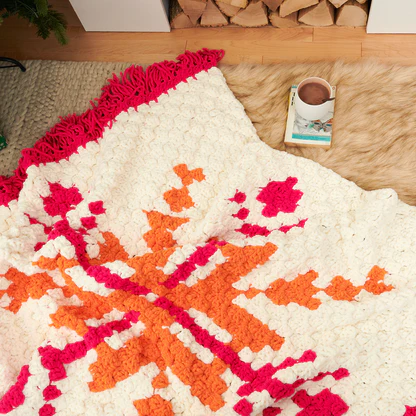 SEE TOO : Crochet Butterfly Brooch